Placenames
Where,
The presentthen heres and
theres,
Mattermoving the this.
And many aretheres here,
Many,
And manythis manies the manymores.
How-wastes
How-wastes—
How-wastes and wastes—
How the how-was,
How the legstomach,
Speaksay,
Speaksay,
The tapeworm.
Chairs and chairs.
Cancers and cancers.
None have seen the eel breed.
Lifesift. Sediment.
Againstate
Spheregas, us, againstate.
Sundrippage, drainsky,
Sayspeak.
Windwarm soundbreath,
The tunetone expectrepeats.
Speakage, dripear, headsee.
The ramblespout untapped
Again.
Empireof
The boundary-expanding empire.
This, the brittlemouths built.
Einsteincan't—always the
Aftertime—the
Lowfruits transferred, bare.
These nexts and nexts—
Populated, always. The
Finds hidden, or nothings,
Or nevers.
Camefroms for us all.
How, the findings,
How, the partners,
How, the endless thisthat,
How, the endless startends.
The eyes open like gills
The eyes open like gills
Oxygensea
A grape of bubble, peeled, boiling
Saltskin
windowsnout
fail fail fail fail fail
fail fail fail
the failing of
failing of
the
lungcavity
the sun into the headspill
the oldterms
gaining
Asbuilt
Asbuilt the why:
Nothing—manmoving,
There and then,
Endstay,
Eternal.
Hands and hands.
The kindtype producing, the mindfield
Barrenbare—
Of never, always,
Never,
The speciestime timewatching.
Oceanso, even now, the calmcrash of
Ceasing,
Of blooming.
Oncewas
Oncewas,
No hydrogen for the oncewas.
Orbsenses-this
The oldlight
Which,
Nowreached,
The site of disaster
Armopens,
Sends its voyagers
Speaking.
Poem
The world maintains its illusion of normality
Because those that it kills are not
Counted among the living.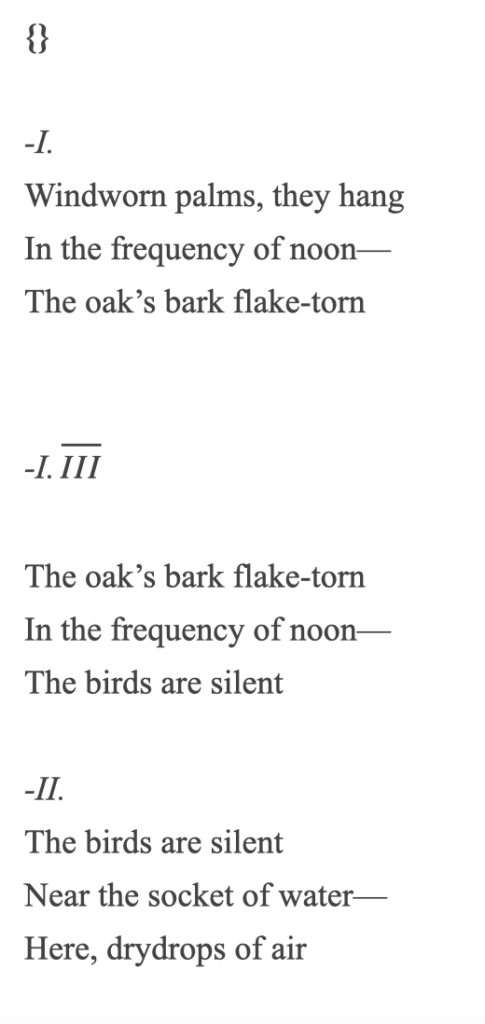 Dylan Taylor's writing has appeared or is forthcoming in
Modern Haiku
and
The American Journal of Poetry
, among others. He lives in San Francisco, where he works in educational technology.